Help our Lottie to health in the USA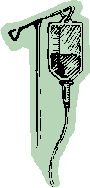 Many of you have put in a good word for Lottie Moss, in prayers at All Saints. Following 12 years of struggle with a brain tumour, a ground breaking drugs trial in the USA gives Lottie the real prospect of a cure. Treatment in the USA isn't free, as it is here, with our wonderful NHS, and we are all rallying round to chip in for the medical bills.
Please visit this web site (click here.....) to follow Lottie's progress and pledge what you can to help; or Google Lottie Moss virginmoneygiving.
My eternal thanks, Lottie's dad, Angus
AKA The Altar alterer, the maker of church gates, the uplifter of festive bunting…